IS1995135993 - Hróður frá Refsstöðum
| | |
| --- | --- |
| | Chestnut with a blaze and white socks |
| | Léttir frá Stóra-Ási |
| | Rán frá Refsstöðum |
| | Jenný Sólborg Franklínsdóttir |
| | Mette Camilla Moe Mannseth |

Honorary prize for offsprings
Sleipnir's Cup
2008
Hróður has long been the crown jewel in the breeding at Þúfur as most of the current breeding mares trace their linear to him in one way or another. Despite being on his 28th winter, he is still producing offsprings. Hróður gives what Mette and Gísli seek so much in their horses and what they consider competition materials, such as the lightness, good temperament, springiness in the step, high withers, strong topline and great basic gaits.
The story of how Hróður became one of Iceland's biggest influential breeding stallions started as a competition between Mette and Gísli. In 1996, Gísli bought a group of colts at Refsstaðir, three were yearlings out of Léttir frá Stóra-Ási. Gísli bought the group because of Rán frá Refsstöðum, Hróður's mother as he trained her and liked her characteristics. The breeder at Refsstaðir had put a condition on the package, that they would not castrate Hróður until at least after 2 years old, as he wanted to use him on few mares. Gísli let Mette pick either Hróður or Skálmar, a brother and uncle to Hróður (Rán's brother). Mette picked Hróður and they entered a competition on whether Hróður or Skálmar would turn out better.
It quickly turned out that Hróður would have the prize in the competition. Skálmar became a gelding and a great riding horse who just recently passed while Hróður became a winner of the Sleipnir Cup, the highest honor a breeding stallion can receive. Mette described Hróður to be "so fun from the beginning, so light on the reins and lively. He tölted around like a competition horse when being lunged from the first time, so open was he to tölt and agile". Hróður was shown in a breeding evaluation as a 4 year old and then again as a 5 year old, when he got a ticket to Landsmót in Reykjavík in 2000. He shined bright on Landsmót and received his highest evaluation, among the marks being 9,5 for tölt and 9 for spirit and slow tölt. Since receiving this good evaluation, his usage as a stud has been consistent and fruitful as there are always new horses appearing at evaluations every year, so he keeps reminding of himself. Mette and Gísli believed in Hróður's breeding qualities from the start, so they have used him a lot in their own breeding, as well as keeping an eye on his offsprings around them.
Hróður has always been on the more elegant side, but he measured 135 cm on stick. It is believed that an occurrence happening when he was a foal had influence on his growth, as he got lost on the mountain in a small group and they weren't found until March, which is likely to have influenced his maturity. Through the years, Hróður has been giving quite the average or plus average horses in size, with long legs. He is still going strong and expects around 15 foals in the summer of 2023!

Highest Offsprings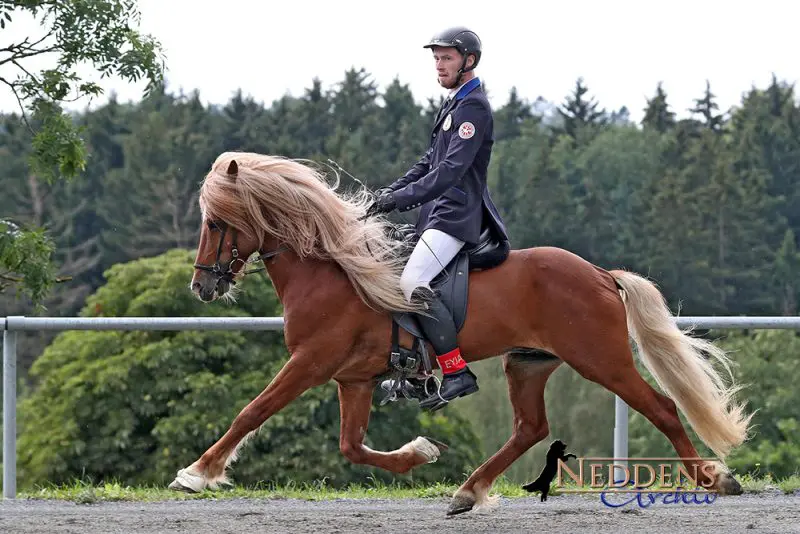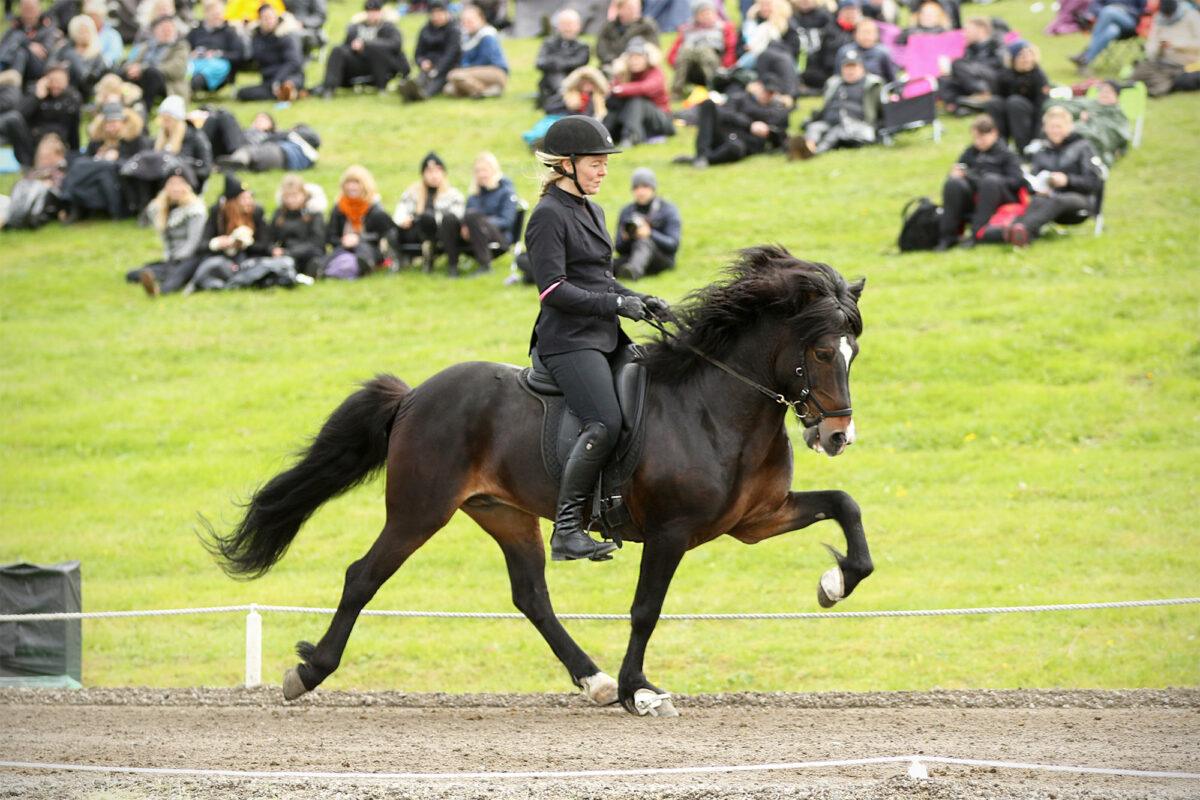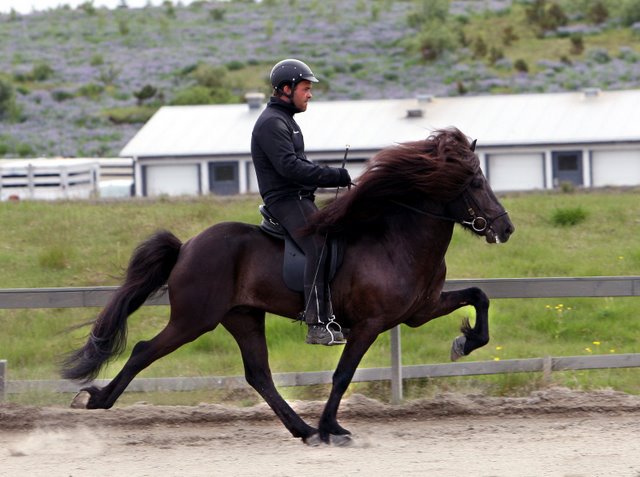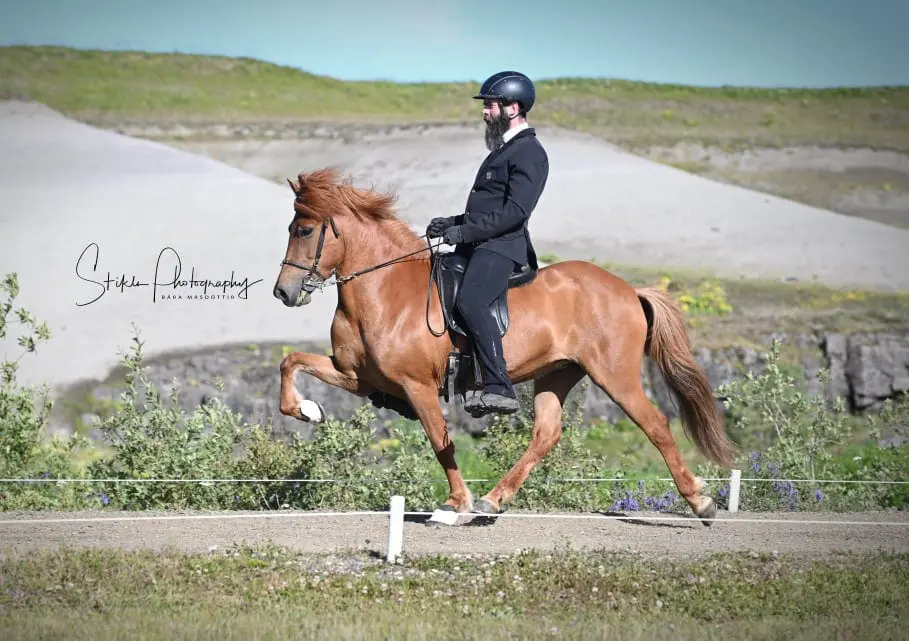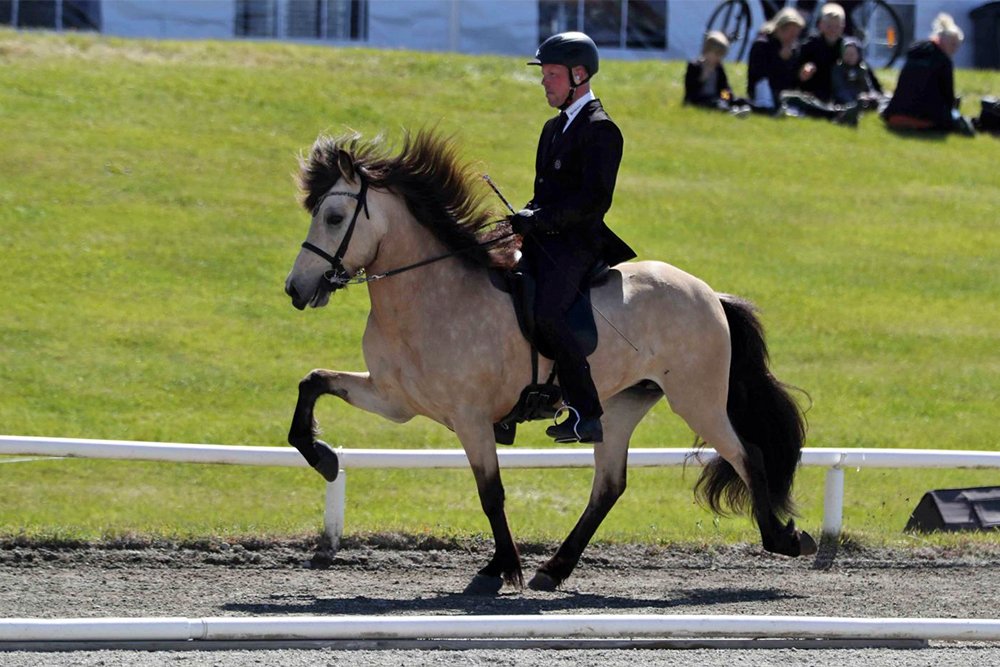 Assessment of offsprings
Hróður produces horses of average size with elegant and sharp head. The neck is set high, long and thin on high withers. The backline is straight and the back is broad, the croup long and powerful. The offsprings are proportional, cylindrical with long legs. The legs are dry and tendons are strong though seperation between them isn't too much. The joint quality varies and the hooves are below average.
Hróður gives his offsprings long strided, high lifting and clear-beated tölt and trot. The pace is rarely present. They have great willingness, are cooperative yet lively and show themselves splendidly. Hróður produces beautiful, long legged horses with great topline with excellent basic gaits and amiable willingness.

ID number and name
IS2008166018 – Búi frá Húsavík
IS2006258309 – Ferna frá Hólum
IS2003158162 – Hnokki frá Þúfum
IS2003156956 – Kvistur frá Skagaströnd
IS2007286955 – Blíða frá Litlu-Tungu 2
IS2012225599 – Katalína frá Hafnarfirði
IS2012258300 – Vörn frá Hólum
IS2010158700 – Ísak frá Dýrfinnustöðum
IS2002286102 – Fjóla frá Kirkjubæ
IS2005165649 – Kristall frá Jarðbrú
IS2008186807 – Púki frá Lækjarbotnum
IS2016201166 – Þenja frá Prestsbæ
IS2001158280 – Baugur frá Víðinesi
IS2002186936 – Vörður frá Árbæ
IS2002286105 – Þyrnirós frá Kirkjubæ

Total
8.73
8.61
8.59
8.58
8.55
8.54
8.54
8.53
8.51
8.51
8.49
8.49
8.48
8.48
8.46

Dam
Dúsa frá Húsavík
Þilja frá Hólum
Lygna frá Stangarholti
Sunna frá Akranesi
Björk frá Litlu-Tungu 2
Íma frá Akureyri
Þrift frá Hólum
List frá Vatnsleysu
Fluga frá Kirkjubæ
Katla frá Þverá, Skíðadal
Hekla-Mjöll frá Lækjarbotnum
Þoka frá Hólum
Gáta frá Hofi
Vigdís frá Feti
Andrea frá Kirkjubæ

Our horses out of Hróður
Like previously stated, Hróður has had huge influence in the breeding at Þúfur. These are examples of horses bred by us out of him.
Total
8.59
8.29
8.21
8.19
8.18
8.15
8.13
8.12
8.10
8.08
8.03
8.02
8.0
7.94

Highest FIZO Assessment
Landsmót 2000 in Reykjavík
Rider : Mette C. M. Mannseth

| | |
| --- | --- |
| Head | 8.5 |
| Neck, withers and shoulders | 8 |
| Back and croup | 8 |
| Proportions | 8 |
| Legs | 8 |
| Joints | 7.5 |
| Hooves | 7.5 |
| Mane and tail | 8.5 |
| Conformation | 7.94 |
| BLUP | 113 |
| | |
| --- | --- |
| Tölt | 9.5 |
| Trot | 8.5 |
| Pace | 7.5 |
| Gallop | 8.5 |
| Spirit | 9 |
| General Impression | 8.5 |
| Walk | 8 |
| Rideability | 8.69 |
| Slow Tölt | 9 |
| Canter | |
| Total | 8.39 |