IS2000236511 - Happadís frá Stangarholti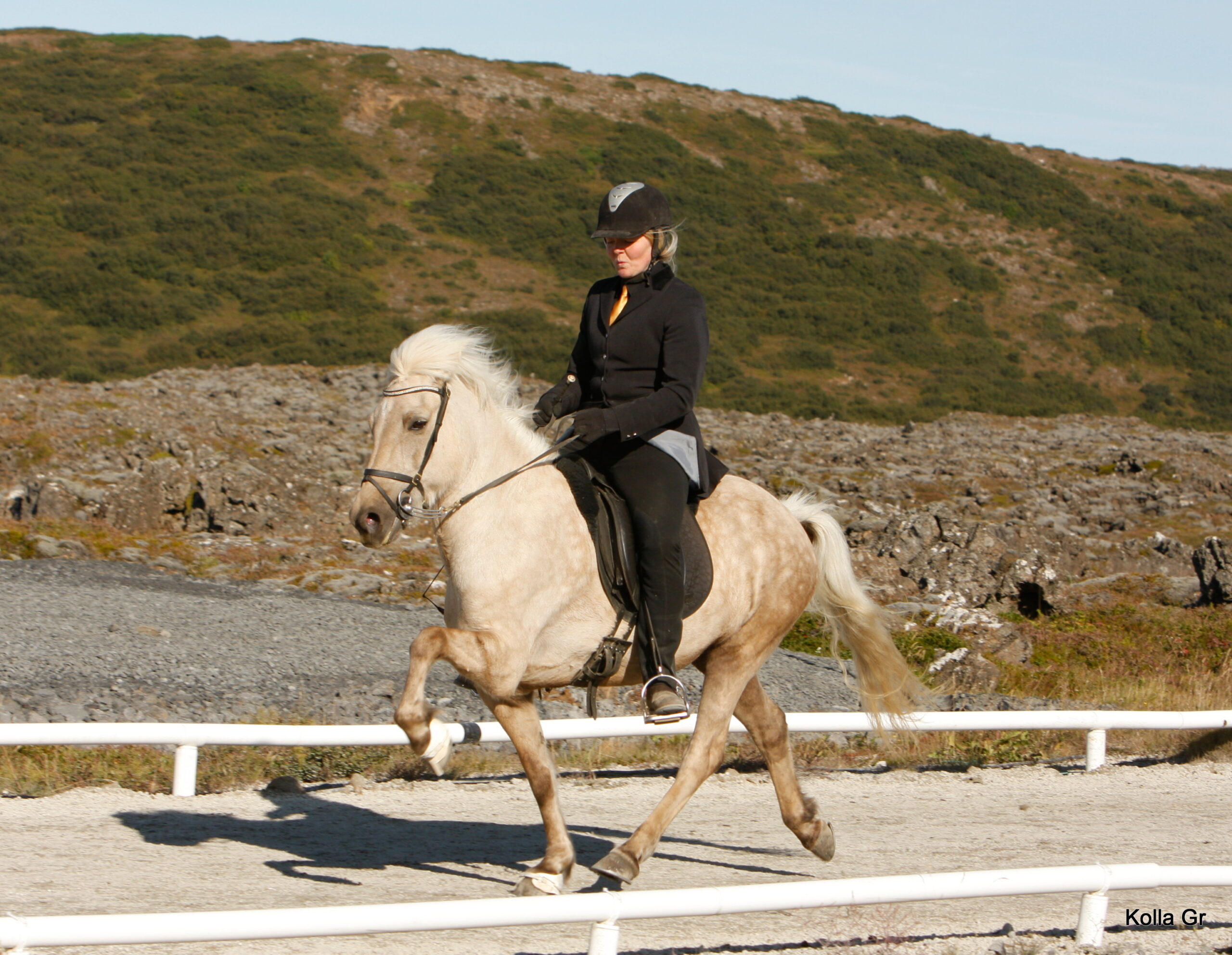 | | |
| --- | --- |
| | Light palomino with a star |
| | Hróður frá Refsstöðum |
| | Þórdís-Stöng frá Stangarholti |
| | Mette Camilla Moe Mannseth |
| | Mette Camilla Moe Mannseth |

Honorary prize for offsprings
2020
Goddess of luck
Happadís' name means "goddess of luck", as her existence is quite the strike of luck. Her father, Hróður escaped his pasture one late summer afternoon without our knowledge while we were on vacation. Her mother, Þórdís-Stöng was a 4 year old that summer. As we were moving north at the time, we waited with the training of the 4 year old mares so they spent the winter outside. Late in the following summer, when we were going to start Þórdís-Stöng under saddle, she looked unlike herself with a huge belly. A week later, we found out about Hróður's escape when a palomino marefoal stood beside Þórdís-Stöng. So Happadís is truly an incredible lucky accident!
Happadís is the only offspring we have from Þórdís-Stöng, as we didn't have our own farm property at the time and thus, could not keep too many horses so Þórdís-Stöng was sold. She is registered as a blue dun but probably was light smokey black, thus a carrier of the crème gene, which explains Happadís' color. Þórdís-Stöng was a lightly built mare with good gaits and had much of the Kjarnholt I bloodlines. As a result, Happadís is inbred out of Kolfinnur, as he appears 3 times in her family tree.
Blondes at play
Happadís was from the start very friendly, energetic yet calm and a bit spooky. As with most Hróður's offsprings, she has positive expectations towards the rider. For Mette, it is memorable to sit on her incredibly strong back when she was young. The trot and canter were outstanding while, as with a CA genotype, Happadís took a little time to get balanced in tölt. When she had found her balance and strength, the tölt was high quality with lot of lightness and reach in the movements, with very high half-halt suspension in the front.
Happadís was Mette's experimental friend. Her good temperament was perfect to work playfully with and at the time, Mette was very interested in riding bitless. The results, besides educating Mette and satisfying her natural curiosity, was that the duo appeared at multiple horse shows and clinics showing their games. Their act was called "Blondes at play".
Breeding career
As we believed in Happadís as a breeding mare, we tried to make an embryo transfer a couple of times with her without success. Mette therefore made Happadís a promise, that if she would win the Icelandic Championships, she would become a breeding mare thereafter. In 2010 she did, but it was quite late in the summer and thus a little bit late to breed her that year in our opinion. But as Happadís ran around like she was in heat, we got her vet-checked to see if she would be ready for a stallion just in case and it turned out she was pregnant! The last embryo that was tried to be transferred earlier in the summer was still there, clinging to its mother. That embryo turned out as the black mare Lukka, meaning "luck" and "happiness". So Happadís' story has been filled with incredible luck and we are so privileged to have two of her daughters in breeding while Happadís herself is now retired.
Happadís received honorary prize for offsprings in 2020, the same year her daughter Eygló broke the world record as the highest evaluated 4 year old mare in the world. Happadís started her career as a breeding mare with 9 mares in a row, none of them palomino but ended her career with two palomino stallions, both probably with CA genotype. Hopefully, they will carry on her good CA gaits and color to their offsprings as both of her daughters that we have in breeding out of Happadís are AA genotype; Lukka and Eygló.

Offsprings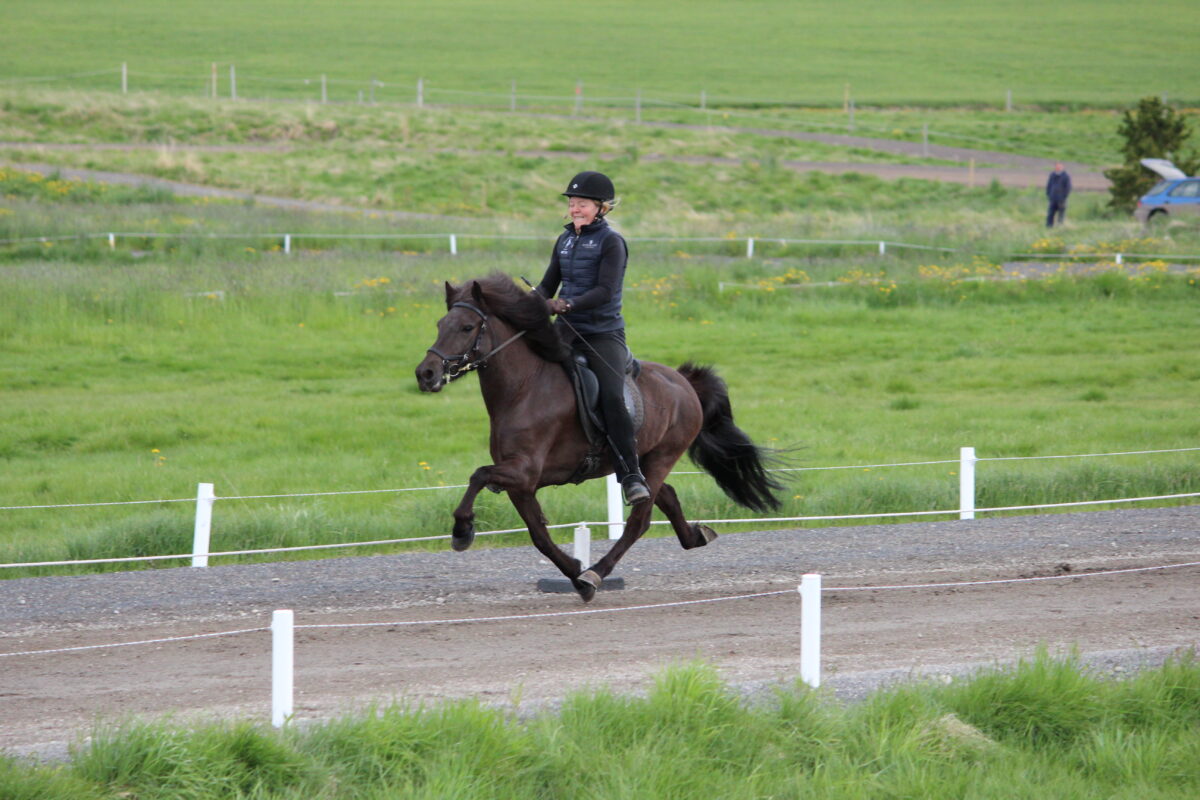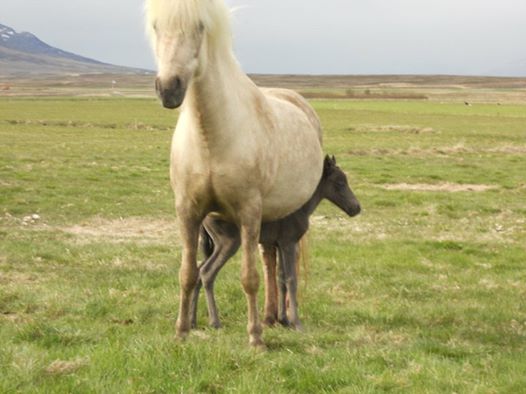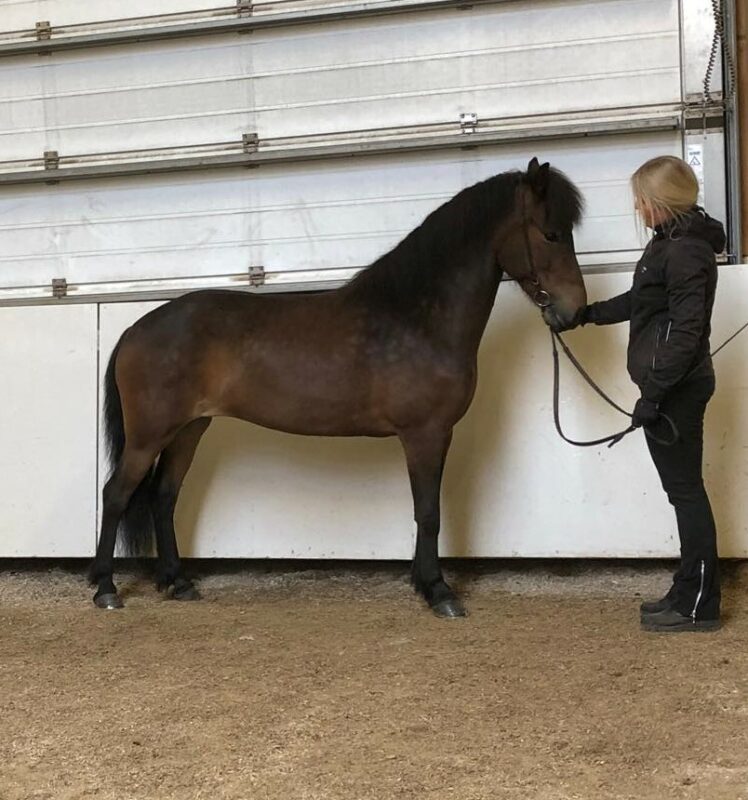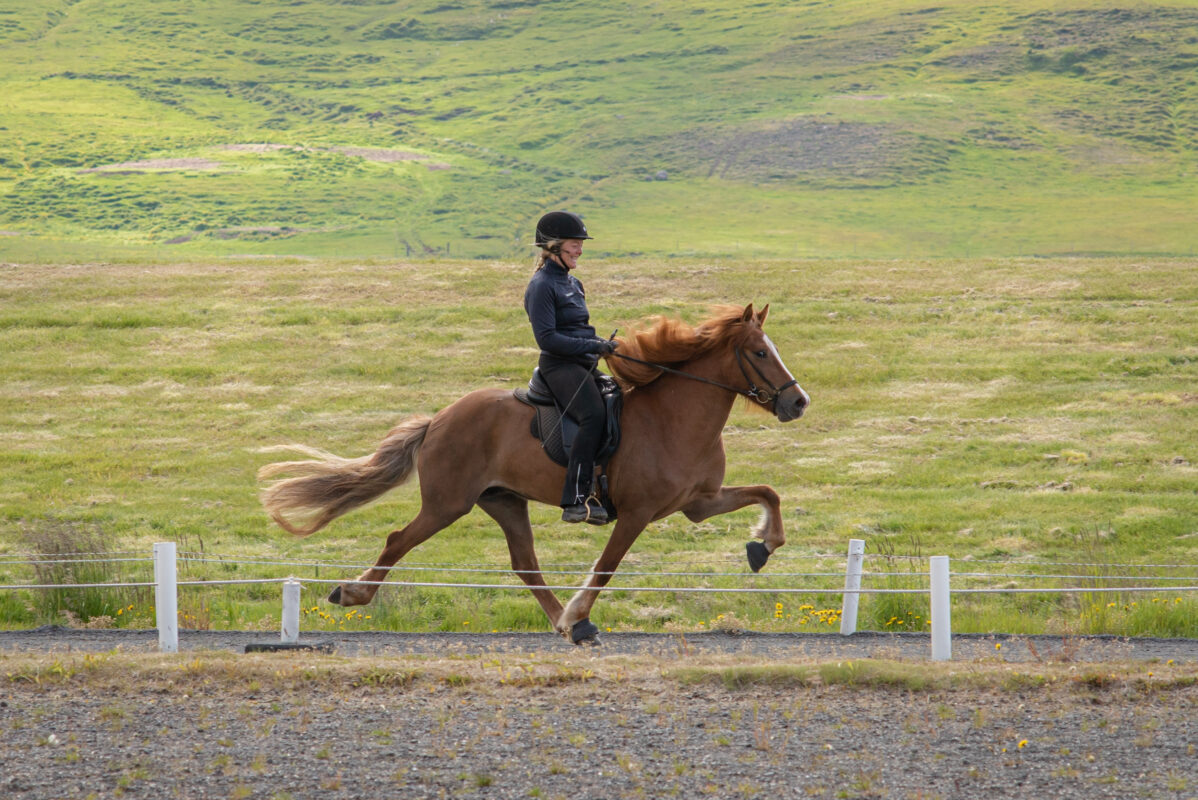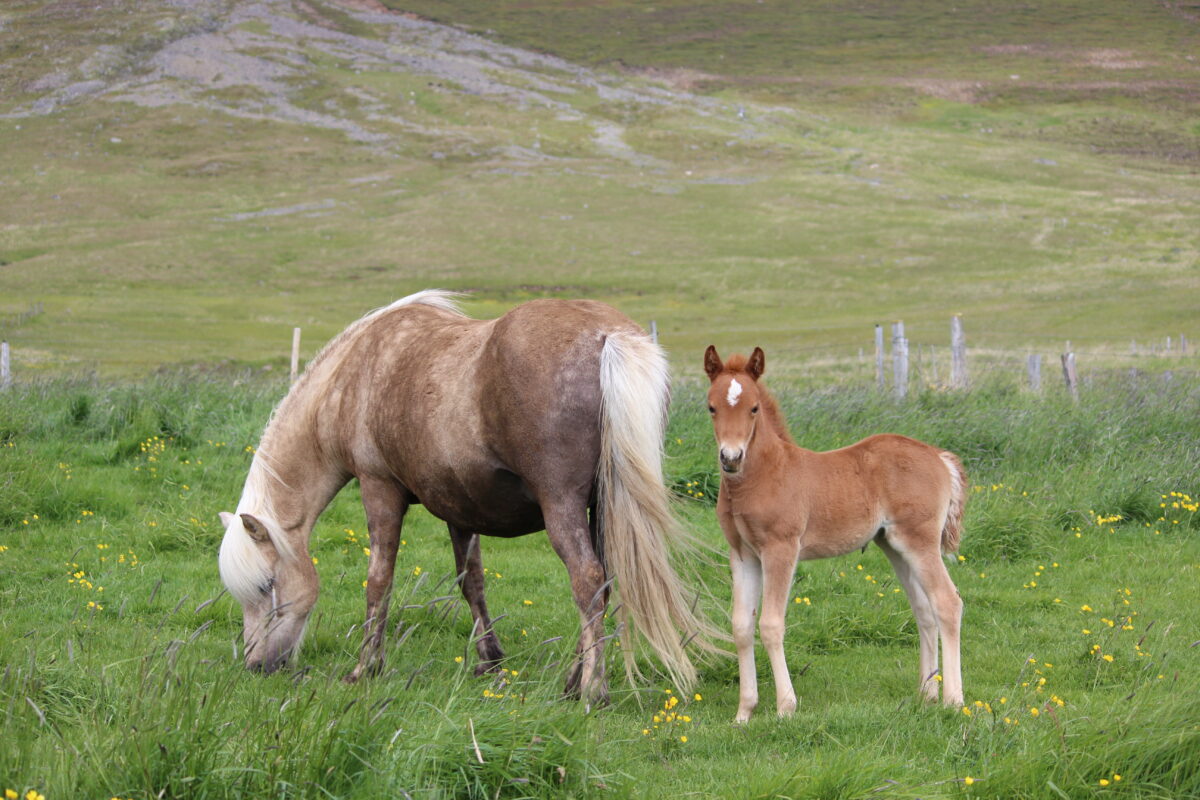 Assessment of offsprings
Happadís frá Stangarholti gives horses of average size. The head is sharp and elegant, the neck is very high set with good length on high withers. The topline is very good and the back broad and well-muscled. The proportions are good with cylindric body but average leg length. The legs are straight and dry. Hooves and mane and tail are average. 
The offsprings are either fivegaited or fourgaited. The tölt is very clear-beated and soft, the trot has long strides and speed and the pace clear-beated and long strided. The gallop has good speed and stride length and the walk is clear-beated. Happadís gives cooperative and willing horses who have good general impression with good head carriage and high leg action.

ID number and name
IS2011258166 – Lukka frá Þúfum
IS2012258166 – Þúfa frá Þúfum
IS2013258165 – Gleði frá Þúfum
IS2014258166 – Happastjarna frá Þúfum
IS2015258160 – Stjörnudís frá Þúfum
IS2016258166 – Eygló frá Þúfum
IS2017258166 – Rjóð frá Þúfum
IS2018258166 – Lína frá Þúfum
IS2019258166 – Freydís frá Þúfum
IS2020158167 – Losti frá Þúfum
IS2021158166 – Gabríel frá Þúfum

Total
8.46
8.01
–
8.34
8.10
8.59
–
–
–
–
–

Highest FIZO Assessment
Spring Breeding Evaluation in Sauðárkrókur 2008
Rider : Mette C. M. Mannseth

| | |
| --- | --- |
| Head | 8 |
| Neck, withers and shoulders | 9 |
| Back and croup | 7.5 |
| Proportions | 8.5 |
| Legs | 7.5 |
| Joints | 8 |
| Hooves | 8 |
| Mane and tail | 6 |
| Conformation | 8.16 |
| BLUP | 124 |
| | |
| --- | --- |
| Tölt | 8.5 |
| Trot | 9 |
| Pace | 5 |
| Gallop | 9 |
| Spirit | 9.5 |
| General Impression | 9 |
| Walk | 9 |
| Rideability | 8.38 |
| Slow Tölt | 9 |
| Canter | 9.5 |
| Total | 8.29 |