IS2018158169 - Grímar frá Þúfum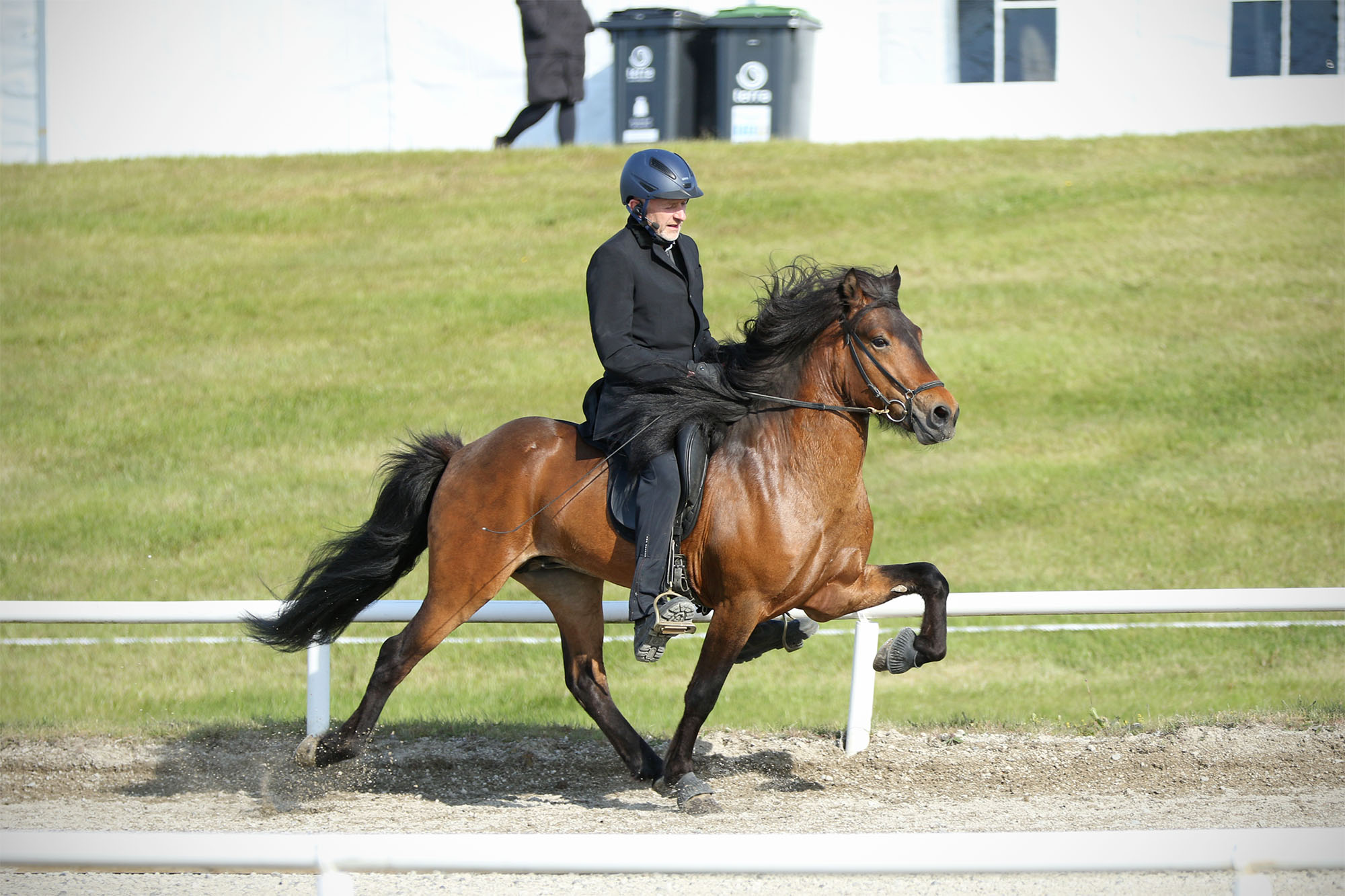 | | |
| --- | --- |
| | Bay |
| | Sólon frá Þúfum |
| | Grýla frá Þúfum |
| | Mette Camilla Moe Mannseth |
| | Mette Camilla Moe Mannseth |
Grímar is an immensely promising fivegaiter, with very good basic gaits. He has long strides and good suspension in both trot and canter, as well as very ground covering and relaxed walk.
Grímar is out of Sólon frá Þúfum and Grýla frá Þúfum, which makes him a brother to Hannibal frá Þúfum, who is the highest evaluated fourgaiter in Iceland. Grímar is furthermore the first offspring of Sólon to be evaluated.

Grímar was evaluated as a 4 year old in the spring of 2022 and received 8.25 in total but 8.45 in total as a fourgaiter. He received 8.33 for conformation and 8.21 for ridden abilities, among the marks were 9 for mane and tail and for walk. He was also presented at Landsmót in Hella in the summer 2022.
Highest FIZO Assessment
Spring Breeding Evaluation at Hólar í Hjaltadal 2022
Rider : Gísli Gíslason

| | |
| --- | --- |
| Head | 8 |
| Neck, withers and shoulders | 8.5 |
| Back and croup | 8 |
| Proportions | 8.5 |
| Legs | 8 |
| Joints | 8 |
| Hooves | 8.5 |
| Mane and tail | 9 |
| Conformation | 8.33 |
| BLUP | 126 |
| | |
| --- | --- |
| Tölt | 8.5 |
| Trot | 8.5 |
| Pace | 6.5 |
| Gallop | 8.5 |
| Spirit | 8.5 |
| General Impression | 8.5 |
| Walk | 9 |
| Rideability | 8.21 |
| Slow Tölt | 7.5 |
| Canter | 8 |
| Total | 8.25 |